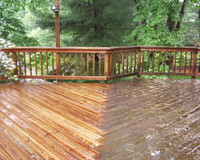 Deck Power Washing
Looking for deck power washing in CT?
Cleaning your deck has a good side and a bad side. The good side is that by using a pressure washer, you can rid the wood of grime and other strange substances that have made the lumber their home.
The bad side is that you can do a number on your deck if you don't know what you're doing. If you have the wrong nozzle on the wand, get the tip too close to the wood or crank the machine up-to full-blast, you stand to destroy your deck.
Don't destroy your deck! Call Blue Mobile Wash today 203-870-8168
for fast, friendly deck power washing service in CT!
Blue Mobile Power Washing wants the whole exterior of your house to look divine. Not only do we do roof, window and side panel cleaning, we are also the best in the Connecticut power/pressure washing business when it comes to decks. Blue Mobile Power Washing will leave your house looking brand new and fresh guaranteed. Call today for a free, prompt, no-hassle estimate.